Marketing Need Analysis Map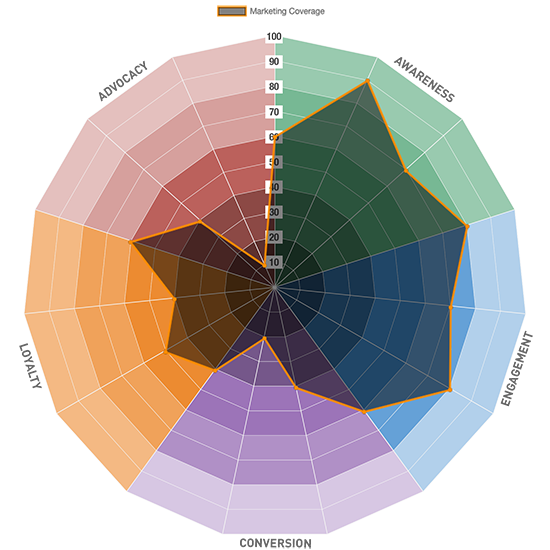 Answer each of the questions below as best you can. Go with your gut feel, but be honest and thoughtful about your answers. After you've finished each question, the graph below will plot your results within your very own Marketing Needs Analysis Map.
For each question: 10 = high/very positive/very high, 0 = zero/very negative/very low
Marketing Needs Chart – Results
Your results have dynamically plotted within the radar chart below.
The connected dots graphically expose gaps or coverage that should help identify any key areas that require focus on for improving your video marketing strategy.
See some examples below for a couple chart examples that outline ways to read your results
---
EXAMPLE 1
Local business, niche industry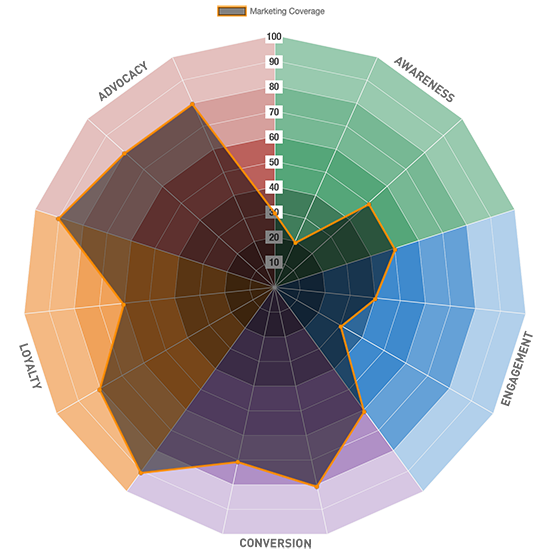 In this example result we can identify some common marketing gaps which regularly feature in gap analysis for a small or local business.
The analysis shows a deficit in perceived awareness for their brand, and although their 'branding' is not too bad it still needs some work to better connect to their target market (engagement).
We also see some low rankings in trust (Q5) and likeability (Q6) which indicates more work is needed to increase the brand position and engagement in their market.
As is the case in many local businesses who build strong, lasting relationships with their customer base they are ranking well across the board for conversion, loyalty and advocacy.
As a result we can determine that the key goals for this businesses video strategy should be focussed on Brand Awareness and Social Engagement.
---
EXAMPLE 2
Established bricks & mortar, newly added eCommerce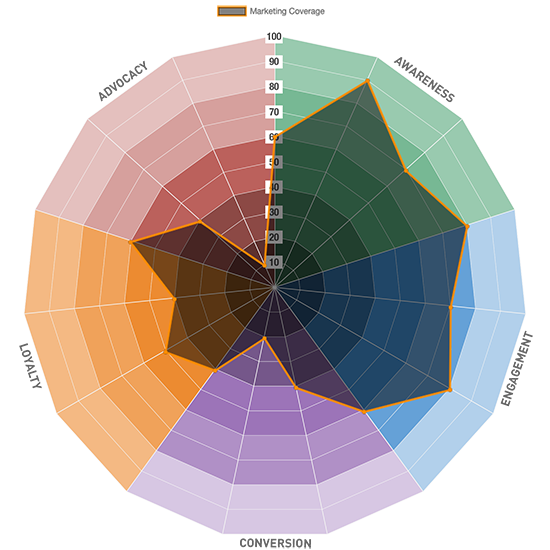 In this example result we can identify that this brand ranks highly in brand awareness and engagement indicating that there is a good perception in the market for this brand/product, building from its history in the industry and audience acceptance of the product/market fit.
Where there are clear gaps in this analysis are at the sales and postsales end of the customer journey where it seems that there is room to improve the effectiveness of the brand's marketing to better move an interested enquiry through to a sale and then to engage further post-sale to encourage repeat purchase and improve customer loyalty.
As a result we can determine that the key goals for this businesses video strategy should be focussed on the goals of conversion and loyalty for maximum effectiveness.